This has been a hectic year full of great discoveries and developments in the field of graphene and other 2D materials. But now we wanted to propose our readers to take a breath and make a ludic stop.
Following Symmetry Magazine we are proposing to turn into the art of cutting paper snowflakes. These are not, however, ordinary snowflakes, they feature Paul Dirac and six Dirac cones!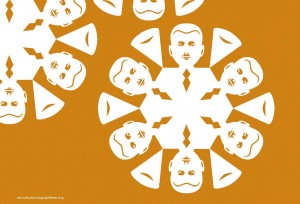 You will need scissors (a cutter may also help) and to print the pdf attached to this post.
Download the pdf file with the instructions and get started.
Thanks for keeping with us throughout the year. We wish you a great 2015!
The authors.